May 12, 2014
Top 10 Tips for Surviving Art Basel Hong Kong 2014
By Vickie Chan of Chantown Creative
Inaugurated in Hong Kong last year, Art Basel, the world's most important art fair, is once again preparing to open its doors on May 15th (with the private viewing for media and collectors and vernissage on May 14th).
As always, a wide plethora of official and unofficial satellite exhibitions, talks, parties, events, special food menus and so on orbit the art fair. The impressive and seemingly endless list of activities seems to grow every year and has done, since the start of ArtHK in 2008. Always a business-minded city that rarely misses an opportunity, Hong Kong has learned to truly embrace art week.
The fair itself has more to see, do and hear than ever, including educational events. Whether or not you plan to spend an afternoon at the fair or a few days, you will need to come prepared to really make the most of #artbaselhk. And to that end, here are my tips on how to survive!
1. 'Getting ready' means more than just looking good.
The fair is huge and unlike the Tate Modern, it's not there all the time and it's not free entry. You only get a few days access so if you plan to see it all, you need to plan. Mark out which galleries you're really interested in and that will help you to make a start. But what about the series of  conversations and salons, the new Film section, and Insights – projects commissioned just for the fair? And that's to name a few. A quick surf around the website the night before your visit might be helpful, for those who like to organise!
Here are some more tips: Avoid a 'big one' the night before or the crowds and ambling will be too much; don't go when you're tired.
Go with a friend or someone you can chat to about what you see, it'll help keep you energised; Schedule in some tea breaks and educational stop-offs to give your mind and eyes a break. Better still, make more than one visit. There's no fresh air in the Hong Kong Convention Centre (HKCEC) so it's easy to feel a bit stifled.
2. Get comfy.
And I don't mean comfy with art chit-chat or intelligent comments to throw around the room. Wear something comfy. It's fun to turn up in something stylish and edgy, it is an art fair after all. But remember those lovely things at the end of your legs that will take you around all day: Your feet need comfort (and so I'd pick some reliable wedges). Better still, aim for a foot massage afterwards – there are lots of places to choose from in Wan Chai!
3. Tick tock.
Are you a fan of crowds? If you live in Hong Kong, it's likely that you've seen enough crowds to fill ten lifetimes. So, try for a quieter experience – which means a nicer viewing – by following the general Hong Kong weekend rule of thumb: Go early. People in Hong Kong don't often get out too early on the weekends. It's the same with Art Basel – most people come along after lunch.  Aim for art, then lunch.
Oh and you'll want at least two hours – if you're the type to meander, browse and miss a lot. If you really want to see it all, be prepared.
4. Don't add to our plastic bottle issue. I've already mentioned the lack of fresh air in the HKCEC, but add the crowds and some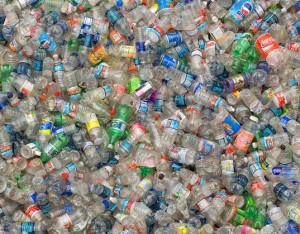 bright lighting and suddenly your throat tightens with how thirst-making the art fair can be. It's up to you if you want to bring a bottle from home, but you'd be helping the planet and especially Hong Kong if you do (recycling plastic isn't cost-effective and unfortunately, Hong Kongers really love their bottled refreshments).
Sip regularly and keep an eye on where the toilets are – at the top and bottom ends of the main rooms and scattered along the main corridors.
5. In a family way
Kids are often brought to the fair at weekends, and why not? The younger you're exposed to interesting and exciting art, the more creativity and expression become a natural part of your life. It's good for the brain and the soul!
Add to that that your toddler or youngster has never seen so much space, why not them run around the aisles and explore art from their perspective?
There are also some great kids activities, which are run by Art Basel, you can find out more about here.
6. All art is not for everyone
It's pretty overwhelming to see so much art in one go and you might not even like some of it. So, don't feel bad about skipping the odd gallery or even aisle – fill your mind with the things that excite you and leave the rest.
I like to make a note of the pieces that really inspire me, so I can choose to easily visit them once more before I leave, or tell a friend about them.
7. Be social
Every time I visit the fair I think I've seen enough and almost seen it all, but somehow when I see my cousin's photos, she's managed to catch art that I love – and missed!
And that's what social media is for. Take pictures and post your favourite or most shocking art experiences, join the online buzz with hashtags like #artbaselhk and the more mysterious #abhk –and if you're really on the ball, include the cubicle number so we can find it too!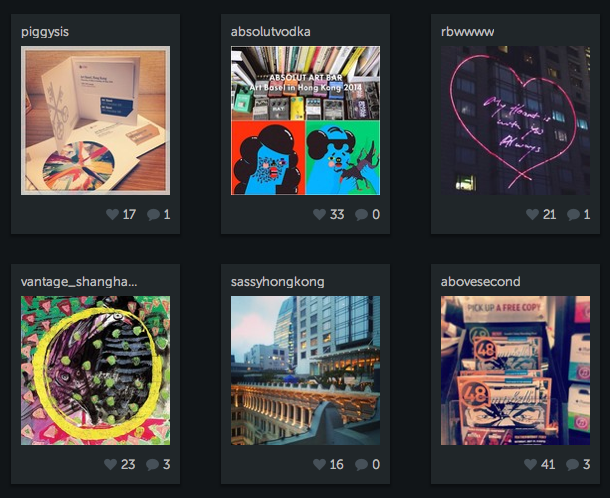 8. It's really about shopping
It's easy to scoff at the prices at Art Basel and question who can really afford such things. But the truth is, the fair is about sales. So, if something takes your fancy make a note. I once heard Fair Director, Magnus Renfrew, say that about 40 percent of sales occur after the fair.
And, it gives you the chance to consider whether you really want to drop that US$2.5 million on a Zao Wou-ki, or just buy that second mansion in Clearwater Bay.
9. Digress to the egress.
If you're beginning to feel like you're blasé to what's there, so tired you want to cry, or just can't take another art comment, it's probably time to leave.
Remember that getting out of the HKCEC can take time, either fighting the masses or finding a cab. So don't get overtired and if you have plans later, give yourself and extra 15 minutes just to get out. And figure out how you're leaving because the last thing you want to do is head out the side door to find a cab (really? Are you sure?) and have to go back in and fight to get to the MTR.
10. Eat, drink and be merry.
Among the extra events around town for the art fair are some lovely #nomnom type happenings –after all, we do LOVE our food in Hong Kong.
If you're feeling fancy, the Mandarin Oriental will be serving their annual ART menu at the Bar + Grill, created by Michelin-starred chef Uwe Opocensky. I've tried it, and it was tasty and imaginative in its servings – which included my plate looking very Pollock after I'd finished. I particularly liked the Monet-inspired Lily Pond, just because of the color of the dish. Make it there before May 18th and your dinner will include a free ticket to the fair.
If you're a street art fan, hit up Yardbird, who are hosting an opening party on Wednesday May 14th to celebrate their collaboration with How and Nosm which sees the creation of an inside mural and some limited edition Sake bottles.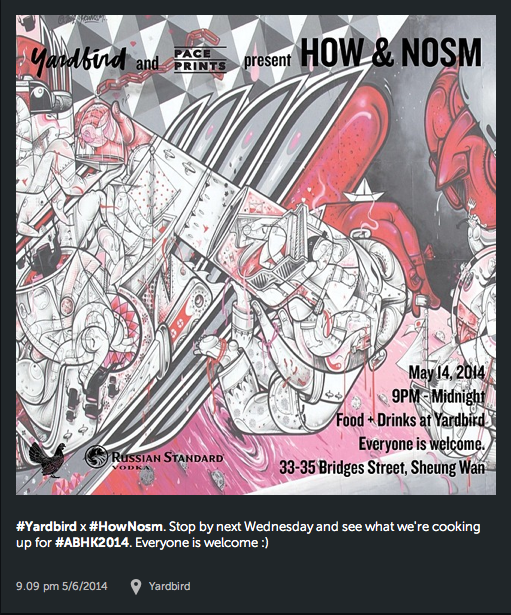 And of course, there's always Absolut Art. This year, it's local artist Nadim Abbas who gets to create a special bar in the name of all things Vodka. Titled Apocalypse Postponed, visit Soundwill Plaza II, Midtown, Causeway Bay for a science fiction film-inspired evening. Weird drinks like Black Dog will leave you wondering if you've coughed a lung up, after one too many.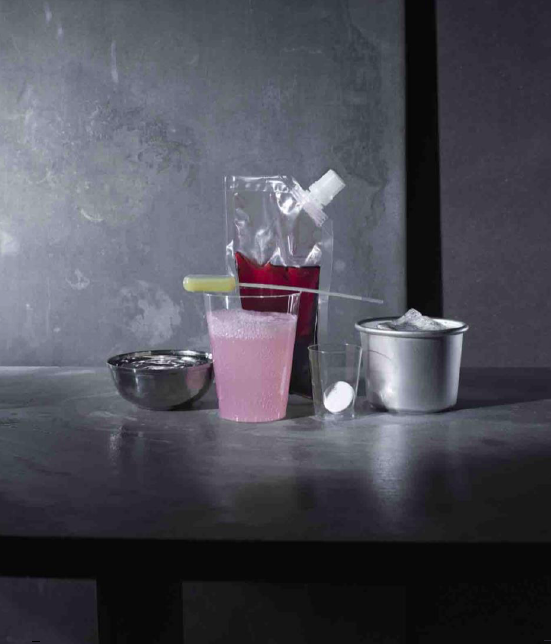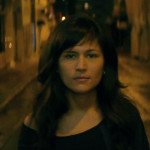 Vickie Chan, sometimes known as Chantown, is a Hong Kong-based mixed media artist who grew up in the UK. Graduating with a degree in Fine Art, her inspirations stem from ethnicity, identity, words, music, popular culture and places. Chan spends much of her time working commercially. Extending her creative world under her company name, Chantown Creative, she focuses on writing, marketing, and creative direction. Learn more about her at www.chantown.com or connect with her socially via @HKChantown and Facebook (www.facebook.com/chantown).